Church News
Thank you to all who attended our Agape Gala Celebrating Our 60th Anniversary!
The Ladies Philoptochos Society would like to invite you to the Annual Christmas Party: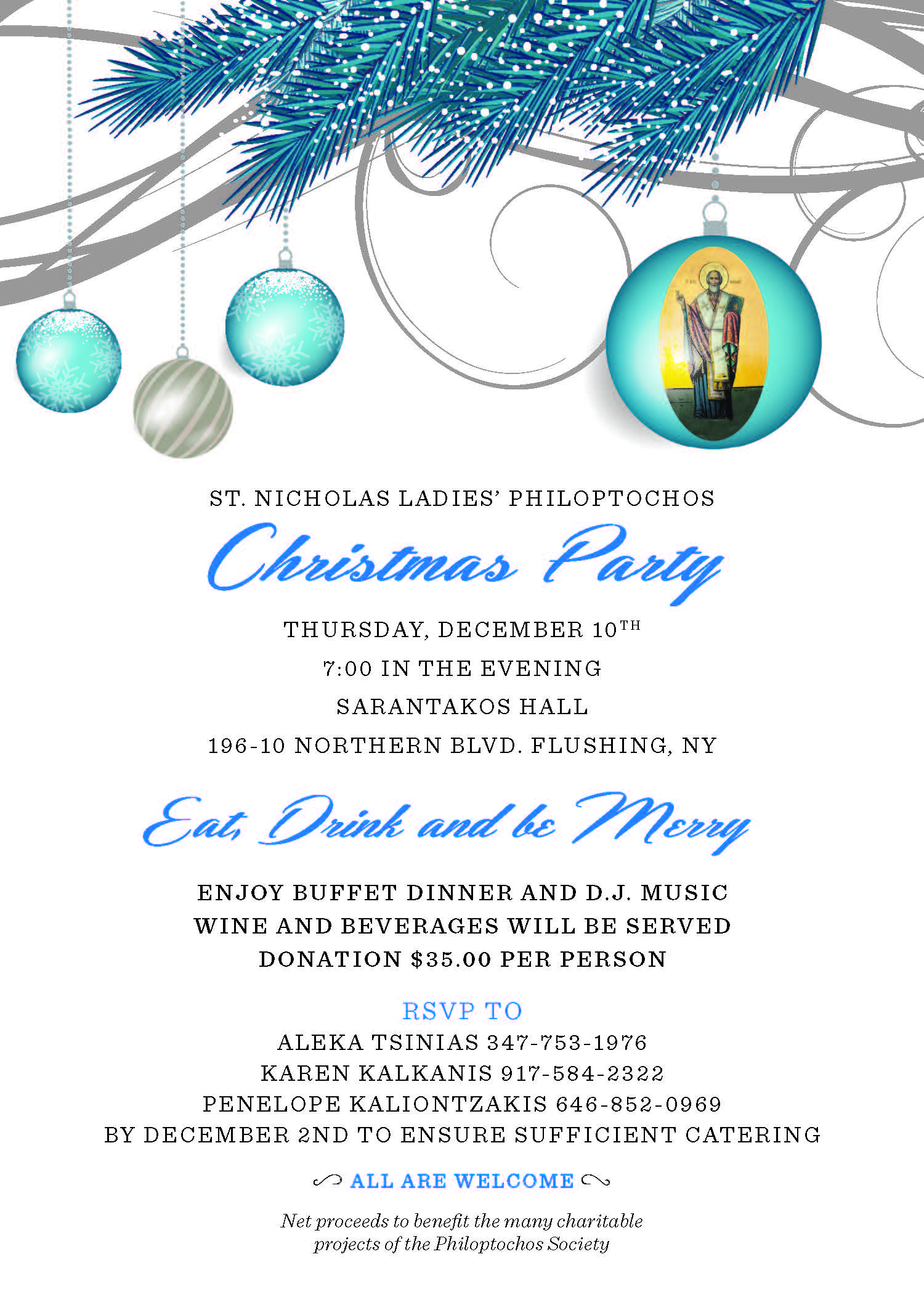 The Philoptochos calendar for the year can be viewed by clicking here.
If you would like to make a donation to our parish, please use the Donate button below.
NOVEMBER 2015
Sunday, November 22: 9TH SUNDAY OF LUKE
Orthros: 7:30am
1st Divine Liturgy: 8:45am
CS Liturgy
2nd Divine Liturgy: 10:45am
CS Liturgy
Monday, November 23
Orthros: 7:30am
Divine Liturgy: 8:30am
Tuesday, November 24
Orthros: 7:30am
Divine Liturgy: 8:30am
Wednesday, November 25: ST. CATHERINE THE GREAT MARTYR
Orthros: 8:00am
Divine Liturgy: 9:00am
Thursday, November 26: ST. STYLIANOS/NIKONOS METANOITE (THANKSGIVING DAY)
Orthros: 7:30am
Divine Liturgy: 8:30am
Friday, November 27
Orthros: 7:30am
Divine Liturgy: 8:30am
Saturday, November 28
Orthros: 7:30am
Divine Liturgy: 8:30am
Sunday, November 29: 13TH SUNDAY OF LUKE
Orthros: 7:30am
1st Divine Liturgy: 8:45am
CS Liturgy
2nd Divine Liturgy: 10:45am
CS Liturgy
Monday, November 30: ST. ANDREW THE APOSTLE
Orthros: 7:30am
Divine Liturgy: 8:30am