Rev. Protopresbyter Paul C. Palesty
Rev. Presbyter Aristidis Garinis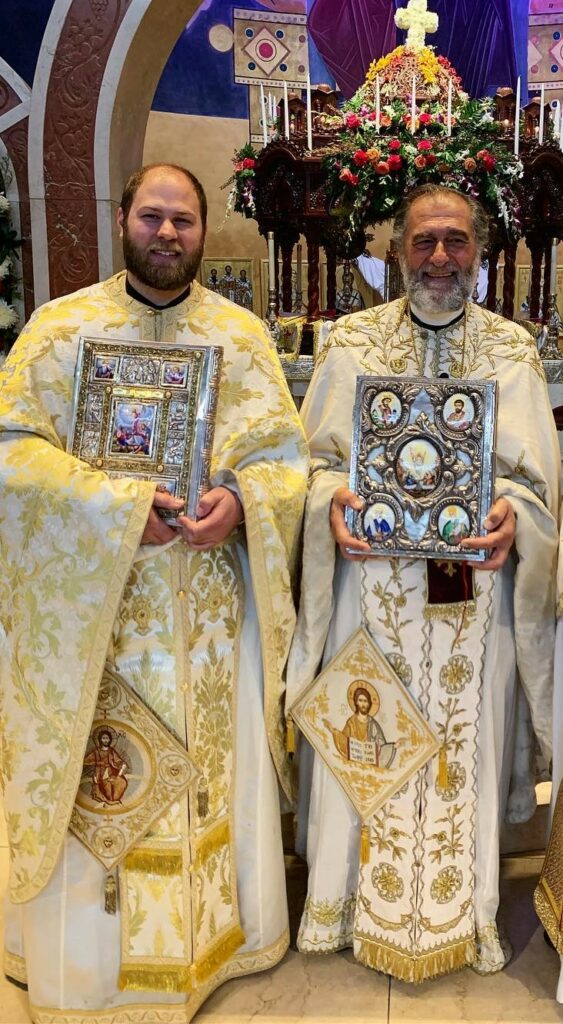 Protopresbyter Fr. Paul C. Palesty
Protopresbyter Fr. Paul C. Palesty was appointed as the 4th pastor of St. Nicholas on September 1, 1997. Fr. Paul was born in Hoboken, New Jersey and grew up in Astoria. For a short period of time, he attended St. Nicholas and was an altar boy under the first pastor, Fr. Volaitis before his family moved to Huntington where he finished his schooling. He graduated in 1973 from Hellenic College with Honors. In 1976 he received a Masters of Divinity with High Honors from the Holy Cross School of Theology. Fr. Paul received a Certificate of Graduate Studies in Christology from the University of Geneva, Switzerland where he served as a representative to the World Council of Churches. In 1978 Fr. Paul married the former Anastasia Topsidelis. Fr. Paul and Presbytera have two children Christos and Maria.
Archbishop Iakovos ordained Fr. Paul to the diaconate in March 1978 at the Holy Trinity Cathedral in New York. Bishop Meletios of Christianoupolis ordained Fr. Paul to the priesthood in May 1978. He was assigned Assistant Pastor of the St. Nicholas Greek Orthodox Church in San Jose California and subsequently became the Pastor of St. Nicholas (San Jose) in 1980. In 1987, he was assigned Pastor of the St. Nicholas Greek Orthodox Church in Lexington, Mass. While serving the parish of St. Nicholas in Lexington, Fr. Paul was chosen by then Bishop Methodios of Boston to be the Director of Campus Ministries at Tufts University, Harvard University and Boston University. Fr. Paul became the Pastor of St. Demetrios, Merrick, New York in 1990. From 1993-1996 Fr. Paul was the President of the St. John Chrysostom Clergy Association for the Archdiocesan District. Archbishop Iakovos chose Fr. Paul to be the co-chair of the 1996 Clergy Laity Congress which took place in New York City.
---
 Presbyter Fr. Aristidis Garinis, Economos
Presbyter Fr. Aristidis Garinis was born and raised in Chicago, Illinois. He graduated from Hellenic College in 2006 with a Bachelor's degree in Religious Studies. In 2009 he graduated from Holy Cross Greek Orthodox School of Theology with a Masters of Divinity. Following his theological education Fr. Aristidis developed his studies in Iconography on Mount Athos, Greece. He continued with a six month internship at the Greek Orthodox Archdiocese of America where he assisted in the organization of the first Episcopal Assembly of Canonical Orthodox Bishops. After his internship, Fr. Aristidis was married to Presvytera Vasileia in 2010. As a lay assistant, Fr. Aristidis worked at Saint Sophia's Greek Orthodox Church in Syracuse, NY. In 2011, he was ordained to the deaconate by Archbishop Demetrios of America and served as his deacon at the Archdiocese until January 11, 2013. Since then, Fr. Aristidis has been assigned to Saint Nicholas Greek Orthodox Shrine Church.