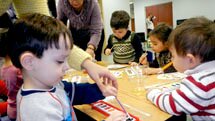 From infant to toddler: The "Little Angels" Mommy and Me program at Saint Nicholas that serves all children in the community under the age of 2.5 years, promotes early development and provides a strong foundation for your child's critical first three years. Weekly classes will help your child achieve new milestones and prepare for more advanced challenges during each stage of growth
Three-Dimensional Learning
Brain Boost. Spatial and perceptual awareness, introduction to colors, language development and self-expression, knowledge of numbers and letters, initial problem solving.
Get moving. Increased physical strength and muscle control, fine and gross motor skill development, coordination, balance.
Citizen kid. Developing independenve and feeling comfortable away from parents, early socialization, sharing and taking turns, accepting new environments, following directions and cooperating.
We welcome children, parents and grandparents to join us every Friday from 9:30 a.m. to 11:30 a.m in the mezzanine of the William Spyropoulos School. The program runs from October through June. Every week, children enjoy circle time with songs and musical instruments in both Greek and English, exercise, craft time and snack time. Holidays are always celebrated with mini parties for Christmas, Easter and the end of the year.
It is also a great opportunity to meet other Greek families. Come and join the "Little Angels" family.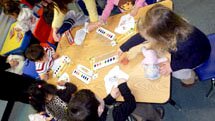 If you would like more information, please contact us via email at: saintnicholaslittleangels@gmail.com or call (347) 551-3625.
Program Director: Margarita Eleftheriadis